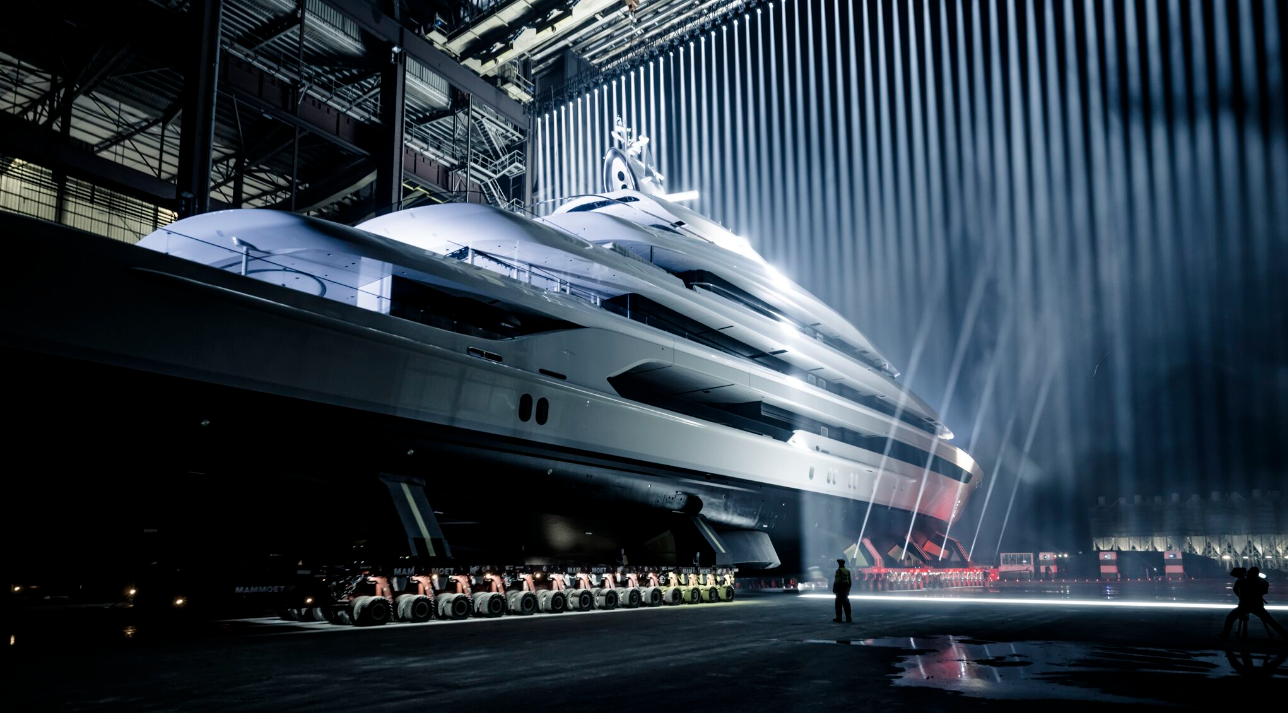 At a milestone event, a revolutionary superyacht was witnessed at Oceanco's construction facilities in The Netherlands.
NEW PERSPECTIVES DELIVER NEW POTENTIAL
The yachting world has seen commercial vessels converted into superyachts, and heritage yachts being returned to their original glory, but this is the first time a superyacht has been recreated to face the future as a new, contemporary vessel. The results reinforce Oceanco's reputation for tackling challenging projects and delivering industry firsts.
Oceanco's CEO Marcel Onkenhout comments: "To say that this has been a remarkable process is an understatement. The project has called for passion, dedication, and extraordinary craftsmanship, with many involved in her creation now contributing to her recreation, including myself. We are proud to say that we are relaunching a completely new Oceanco." 1050H displays a modern exterior aesthetic, including a completely new superstructure, alongside a fresh interior by Reymond Langton Design.
EVOLUTION
The reimagining of this icon calls into question our notion of what defines a yacht. To consider the connection between form and identity, and a yacht's potential for evolution; taking on new shapes and new meanings.
The A Group's Richard Hein, who acted as the independent owner's representative for the project, adds: "This almost unimaginable transformation has been able to take place thanks to the shared trust, perseverance and expertise of the team involved. A yacht is more than just the materialization of an owner's vision. It has its own character, its own specific habitat, with a unique purpose and story. Through the achievements of this project we have been able to extend the story of a remarkable superyacht for decades to come. It is about seeing the potential for all vessels, rather than starting from a blank sheet of paper each time."
POSITIVE IMPACT
Aside from her physical transformation, the work undertaken brings 1050H into the future with contemporary standards in terms of technology, safety, capability and sustainability. She has an operational profile that is fully compliant with rigorous IMO Tier III standards, not to mention upgrades to her technological capabilities across the board.
At a time when the yachting industry is increasingly mindful of the impact that newly built vessels have on the planet, it is pertinent to highlight that bringing an existing superyacht's environmental profile up to date with contemporary standards can have as much, if not more, of a positive impact.
"It is a proud moment for me to see the nearing completion of this transformation, having personally been involved in returning 1050H to her birthplace for this ambitious project," added Dr. Barwani, Chairman of Oceanco.